Have Yourself a Hygge Little Christmas - a handmade gift guide
Posted on
Christmas can be a stressful time especially when it comes to gift buying. As much as we might all like to support our high streets, finding the time inbetween work, christmas parties and the inevitable cold or flu can be tricky.
So I'd like to think the next best thing is supporting small, handmade businesses online. In the run up to Christmas I'll be curating some gift guides to give you a helping hand discover gifts for both you and your loved ones!
The first of these is my Hygge Gift Guide - inspired by this Danish word for that feeling of cosiness you get enjoying time alone or with friends when snuggling under a blanket with a hot chocolate or by the crackling fire down the local pub with your thick, warm knitted socks on.
Plus, there will be no judgement if you end up treating yourself to a few of these gifts either! Here you go: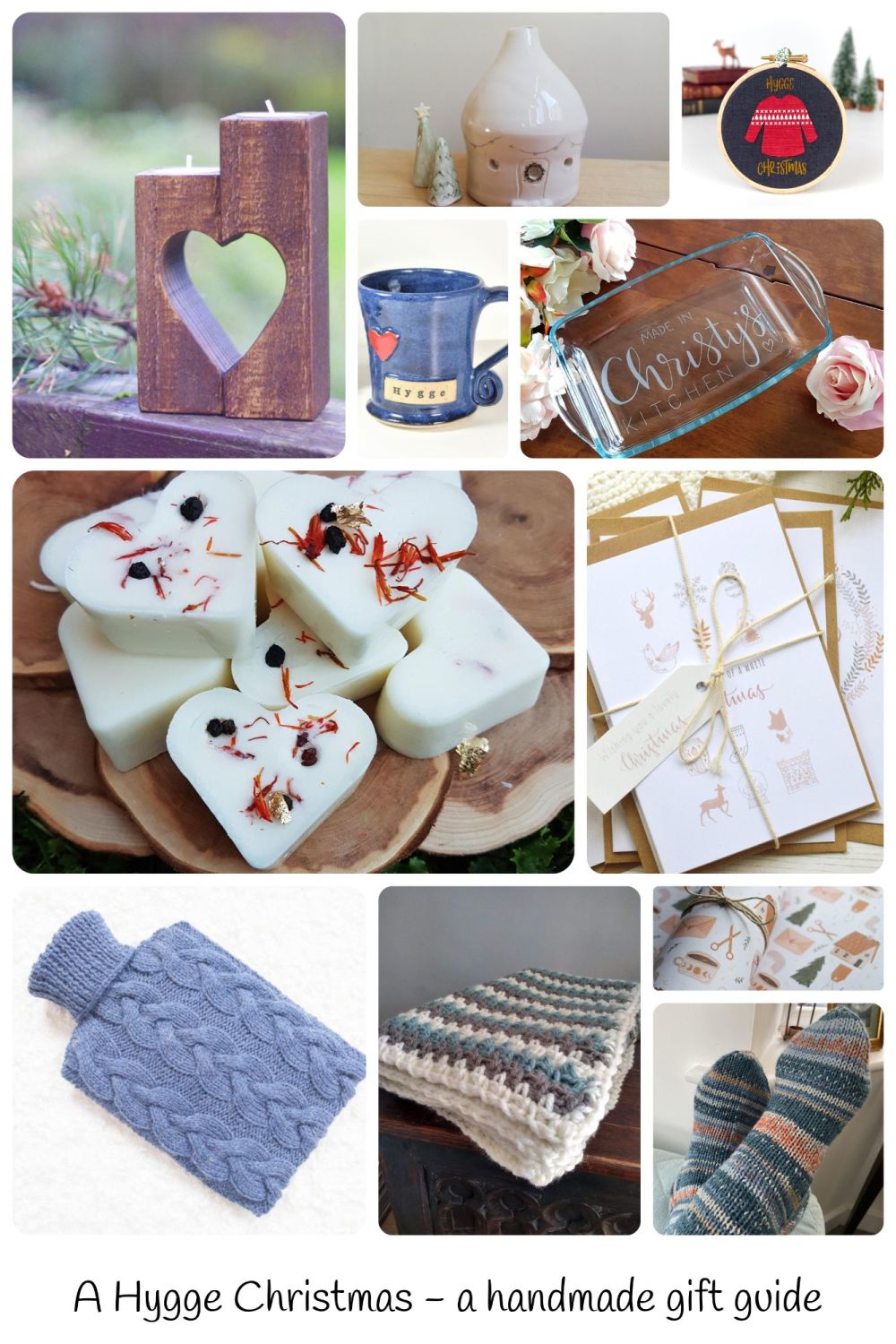 Wooden Heart Candle Holder: https://www.etsy.com/uk/listing/251711905/wedding-heart-candle-holders-shabby-chic?ref=shop_home_feat_1&frs=1
Ceramic Christmas House Tealight Holder: https://folksy.com/items/7338057-Handmade-ceramic-Christmas-house-tea-light-pottery-candle-holder-gift
Hygge Christmas Jumper Embriodery Hoop Decoration: https://folksy.com/items/7315974-Hygge-Christmas-Jumper-Funny-Christmas-Decoration-
Blue Hygge Mug: https://folksy.com/items/7091702-Hygge-Blue-Mug-Ceramic-Stoneware-Pottery-UK-Gift-Gifts-Mugs-Tea-Coffee-
Vegan Soy Wax Melts: https://www.etsy.com/uk/listing/715943704/hygge-soy-wax-melts-vegan-orange?ref=shop_home_active_20
Pack of Christmas Cards: https://www.etsy.com/uk/listing/641102006/christmas-cards-pack-pack-of-6-rustic?ref=shop_home_active_75&frs=1
Knitted Hot Water Bottle Cover: https://folksy.com/items/7236990-Hand-knitted-hot-water-bottle-cover-cosy-in-denim-Rustic-bedroom-home-decor-
Crochet Blanket: https://www.etsy.com/uk/listing/728772386/handmade-crochet-lap-blanket-white-grey?ref=shop_home_active_2&frs=1
Christmas Wrapping Paper: https://www.etsy.com/uk/listing/741373048/hygge-christmas-wrapping-paper-christmas?ref=shop_home_active_1&crt=1
Woollen Socks: https://www.etsy.com/uk/listing/737157372/cosy-socks?ref=shop_home_active_11&frs=1
If you've enjoyed this post please feel free to share and if you'd like to make a suggestion for upcoming gift guide themes then just let me know!