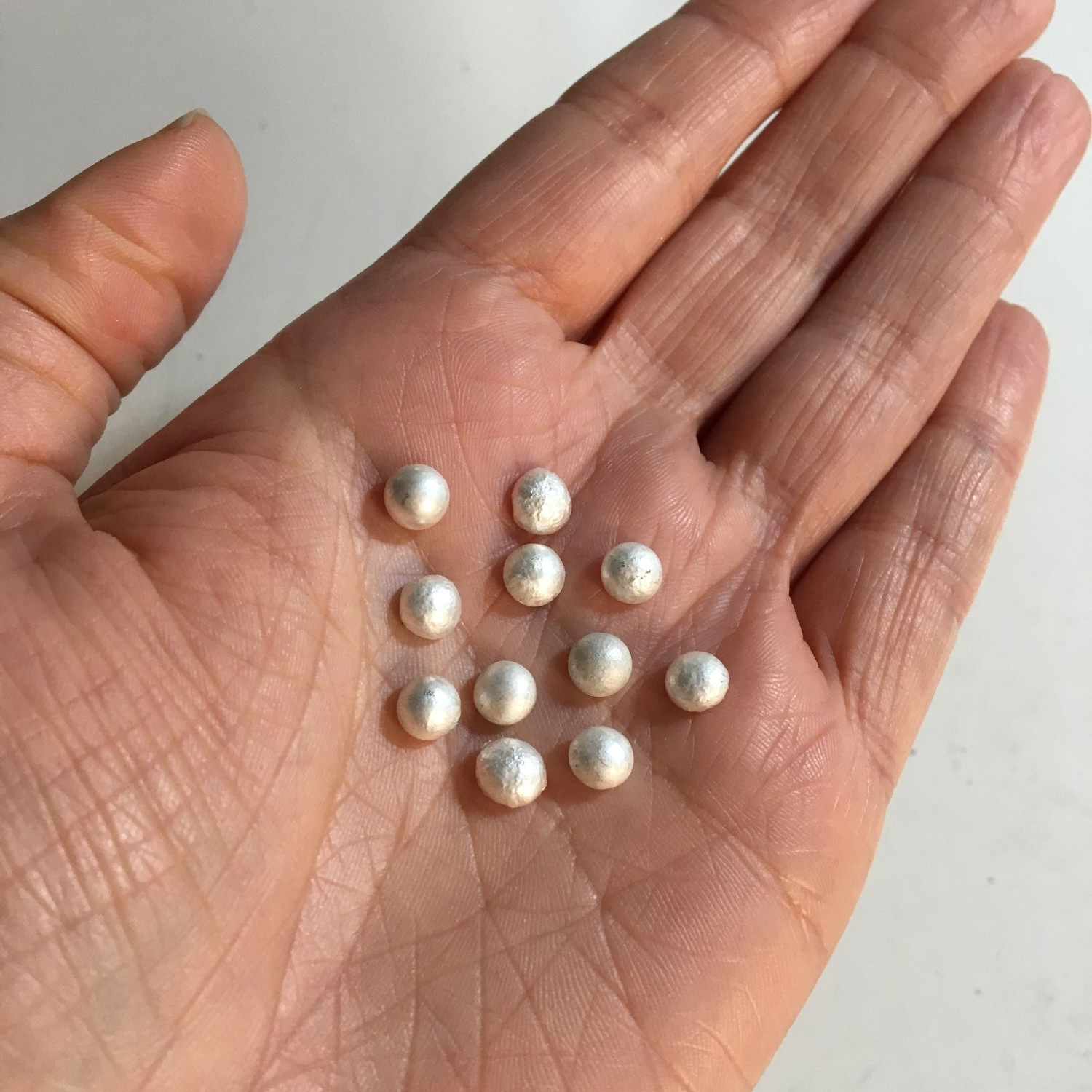 In early 2021 I decided to make the switch to using eco-silver to hand craft my jewellery from. Eco-silver is produced by recycling sterling silver from pre-loved jewellery, tableware, decorative items and even some medical products. The wire and sheet silver produced via this method doesn't rely on any freshly mined silver and I can also provide my scrap silver to be recycled this way too.
I also recycle some of my own scraps to be used as embellishments and charms. However, at this stage I am unable to work with others pre-loved jewellery to turn it into something new. I simply don't have a suitable workspace or equipment to do this - it's best left to the refiners!
Another fantastic innovation that I will continue to use in my designs is metal clay. This wonderful material takes scrap silver and produces microscopic particles of the metal to combine with a non-toxic organic binder and water. This mouldable material can be shaped and then left to dry before being carefully fired to removed the binder. The result is solid, pure (99.9%) silver - pure alchemy!
At the time of writing there are a few limitiations however. I have been unable to source a supplier of clasps or earring posts for studs (and the butterfly backs for securing these). This means that my jewellery will have to evolve in order to move past these restrictions as best as possible. Where this isn't possible I will continue to support my U.K supplier of these items. Their products have an element of recyclability due to the nature of manufacture but cannot be classed as eco-silver.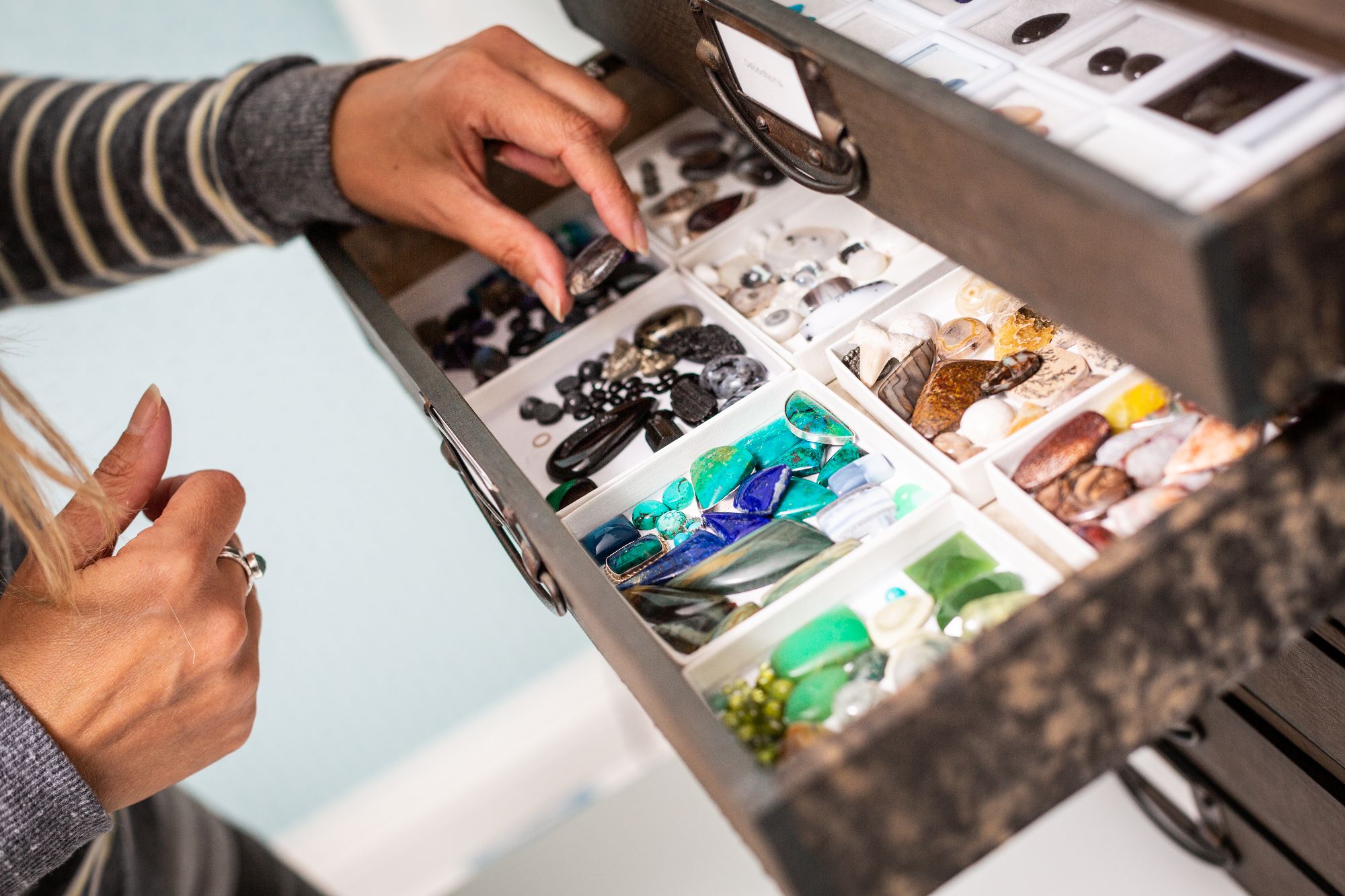 One of the things I love about designing jewellery is sourcing the gemstones to work with.
What I dislike is the transparency in how these stones came to market - what was the impact on the environment? Did the miners get paid properly and were they provided with acceptable working conditions? What about the stonecutters?
The truth is, for coloured gemstones, there is no Kimberley process like there is for diamonds. Traceability is emerging in the industry for more precious coloured gemstones such as rubies, sapphires and emeralds but it leaves a huge amount of stones unaccounted for.
This means that for the most part I have to put my trust in my suppliers. That they have reassured me they are doing all they can to buy stones that aren't mined unsafely or cut and polished using child labour for example.
In order to bypass these concerns I predominately choose to buy stones that are cut and polished by hand in Yorkshire, U.K. The rough materials are not considered highly commercial and so are often 'collected' rather than 'mined' by small groups of people digging on private land (with permission, of course). A lot of material is often 'old stock' too, collected many decades ago and kept in private collections as specimens. These are stones like agates, fossilised wood and dinosaur bone, jaspers and Australian chrysoprase.
The next best thing I have selected to work with are bi-products of industry. Sea glass, for example, is collected by me from the shores of the U.K after tumbling wastefully in the waves for many years. Or Surfite which is polished resin left over from the manufacture of custom surfboards. Fordite is also very similiar - it's the layers of car paint that attach to the inside of the spraying booths. It becomes hard enough to cut and polish just like any other gemstone.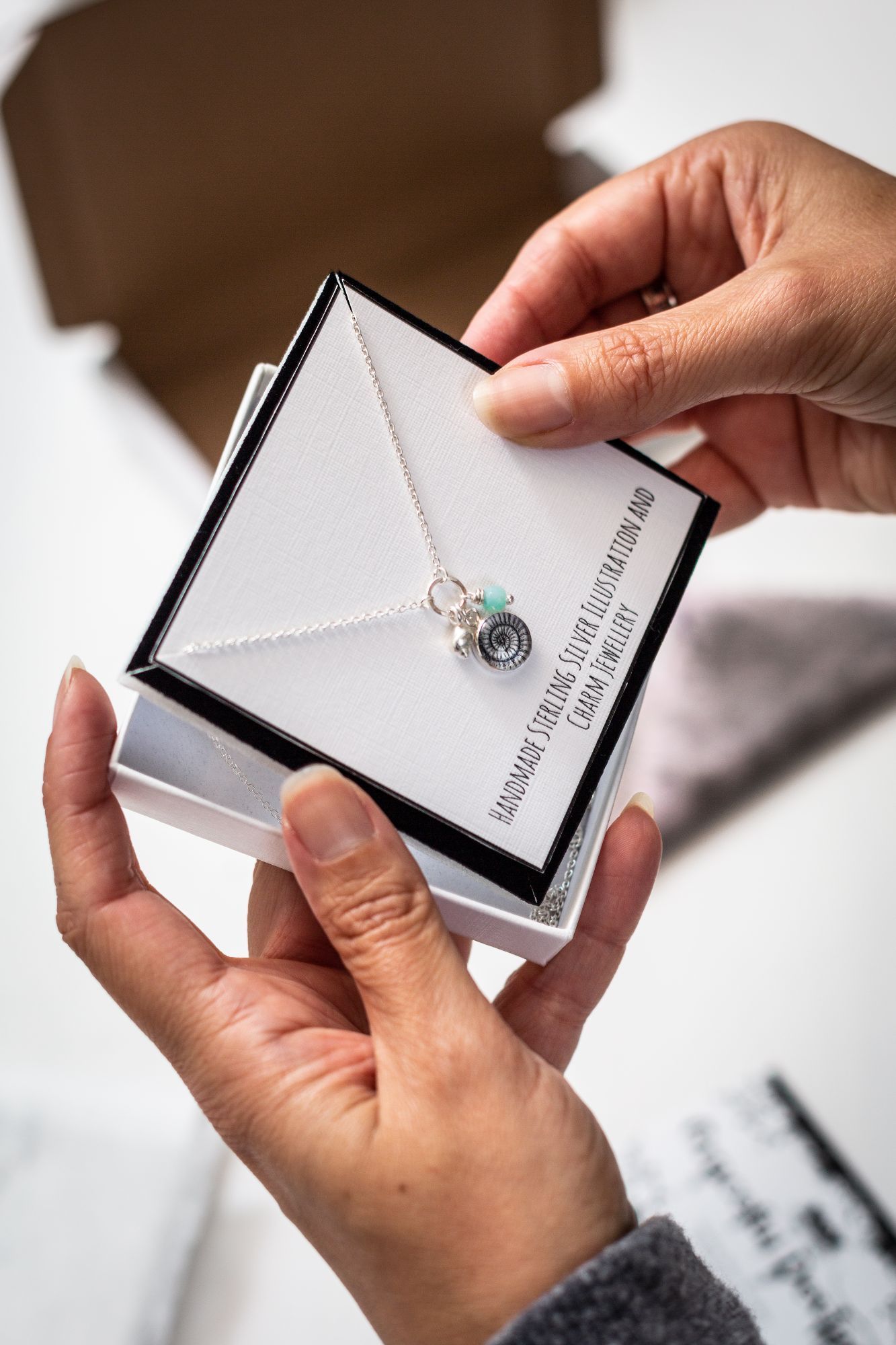 All of my work comes in a cardboard jewellery box (made with tarnish free materials) for keeping your jewels in.
Online orders are posted out in cardboard boxes too - these are handy for reusing as they post under a U.K large letter stamp! Otherwise they are fully recyclable as is the tissue paper used to line the box.
You can also select gift wrapping and greeting cards to accompany your order. The wrapping paper is designed and printed here in the U.K and is fully recyclable as are the greeting cards which are all handmade by me.
At the time of writing I am looking into switching to paper tape to seal the postal boxes as well as exploring possibilities to either replace or discontinue the foam pads that are supplied with the jewellery boxes.
I feel these are all steps in the right direction and as the business changes and evolves I will be keeping this ethos in mind at every step to constantly strive to do better.